If you are a task card fan, consider buying them in
bundles
- bundles are sold at a discount, the bigger the bundle, the bigger the savings. Here are some of my task card bundles:
The Inference Bundle
includes some of the most popular task card sets on TpT (in fact
Inference Task Cards
is the best selling task card set on the site). This set includes five task card sets (both multiple choice and short answer) to help your students master this oh-so-challenging reading strategy.
Reading Strategies
includes three of the most popular task card sets on TpT:
Author's Purpose
Connections
Summarize It!
The Informational Text/Nonfiction Bundle
includes different card sets to help students gain familiarity with text features and text structures. The first set features 24 open-ended activity cards that can be used with any non-fiction book. The second set tests students understanding of text features with multiple choice questions, while each of the cards in the third set has a nonfiction paragraph for students to use to identify one of five text structures.
Prefixes, Suffixes and Roots
includes two sets of multiple choice task cards to help students gain fluency working with affixes. There is also a group of three task card sets to help students learn the spelling rules associated with adding suffixes. These includes a set each for silent e, tricky y, and double consonants. In addition, there are two sets focusing on word roots and their meanings. There are seven sets of task cards in this CCSS aligned bundle.
The
Vocabulary Bundle
is a huge collection of 16 sets of task cards including homophones, synonyms, multiple-meaning words, shades of meaning, and idioms. All of these sets are aligned with the Common Core. You save $12 by buying them bundled, and that is
before
the sale!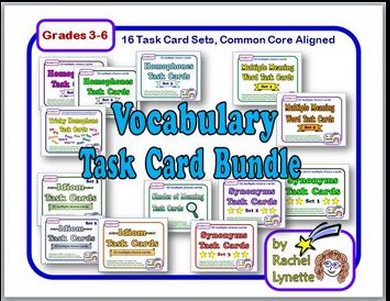 You will never need a writing or discussion prompt again with this awesome
The Writing Prompt Bundle.
There are 764 open-ended, thought-provoking prompts. This bundle includes 200 Would You Rather Questions - which are extremely popular with kids of all ages (and adults too!). There are also creative and critical thinking questions and reading response questions that can be used with any book.
You can find all of my bundles
right here
.
Remember that you can get even more money to spend by leaving feedback on the products you have purchased to earn TpT credits.